In 1961/62, three Mennonite families moved to the Hanover area.  At the beginning, this small group met in various homes with ministerial assistance from Mennonite churches in Moorefield and Glen Allen.  A small chapel was built into one of the family homes however by 1966 the group had outgrown this space.
A lot of planning took place in 1966 to provide a permanent location. The Hanover Town Hall was rented for church services with the understanding that the group would build a church facility. During this time the group was known as "Hanover Mennonite Fellowship".
A new building was planned and built at 172 5th Street.  Most of the construction work was volunteer labor from the congregation and other area Mennonite churches.  The ground breaking ceremony was May 20, 1967.   The first service was March 24, 1968 and a service of dedication was April 18-21, 1968.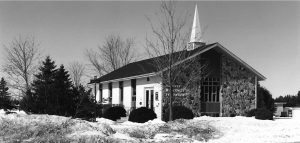 In 1974, a portable was added, to accommodate the growing congregation. Agreement had been made prior to building the Hanover building, that should this facility become too small, a group would be started in the Chesley area.  In 1975 the congregation began a fellowship in Chesley. The vacant Thaler School house was purchased and renovation of the school, including an addition, was completed by members. Now there were 2 meeting places with one pastor and one organization called "Hanover-Chesley Mennonite Fellowship".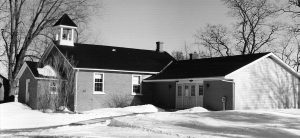 The first Chesley service was held on Oct. 31, 1976, and a dedication service was Nov. 12-14, 1976.  In 1976, the portable at Hanover was sold to a member family who used it as their residence. The congregation, operating in 2 locations,  continued from 1976 to 1995.   In 1995, after some difficult decisions, Hanover and Chesley agreed to become separate congregations. On December 30, 2001, a final service at Chesley was held and the property was sold and is now an Amish School.
Hanover Mennonite Fellowship continued from 1995 to 2002 using the original building in Hanover.  In 2002 an addition was added to the existing church building.  The building was enlarged and made handicap accessible by adding a new entrance area, a main floor washroom, a new servery as well as additional basement area.  At this time the name was changed from "Hanover Mennonite Fellowship" to "Hanover Mennonite Church".